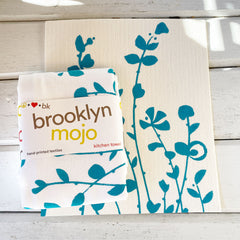 Award-winning cookbook author Domenica Marchetti teaches online classes, all specializing in Italian cuisine. She'll be updating her online class schedule in January, and has gift cards available. I took her Italian cookies class last year, and it really upped my baked goods gifting game. Highly recommend!
So many of my flower vases and fun props come from my friend Mary's vintage shop Tipple and Snack. If you've ever thought, "where does Amy get those wacky chicks hatching out of blue shells that she uses in her chicken cards photos?" or "where does one get a tiny wooden person sledding these days?", Tipple and Snack is the answer. And, like I'm saying, not just for quirky things, also for, among many, many other things, lovely pottery, silverware, and ironstone -  like these.
Pantera at Brooklyn Mojo has so many beautiful, hand-printed textiles and home goods, including this tea towel and Swedish sponge set I bought for myself. The color is fab and the fabric is so soft. I'm coveting her shorty bags, too, one of those might have to be a post-holiday gift. To myself. :) 
I've mentioned my friend Lana's work before, but because adorable baby gifts never go out of style, it's worth mentioning again. Just look at that sweet alphabet! Lana's shop, 
Looshka Studio
, also has prints with some of these adorable characters on their own, so you can create a cuteness overload corner if you'd like. And who wouldn't like?
Another fab shop I've mentioned before is Tatutina, which has been a favorite for pretty much my whole life (since probably 3rd grade). Georgia is making these sweet custom pet stockings - you can add your pet's name to the top - as well as cat and dog advent calendars. The cat advent calendars have SPARKLES on the whiskers. Hello?! Amazing! Happy and fun art for pets and their people, indeed! :)
Suman of Fork on a Road makes delicious, healthful meal starter kits, you provide the fresh produce, and voila! Dinner is served! This Harvest Hyderabadi Biryani is influenced by the royal ktichens of Hyderabad and the New England harvest. YUMMMMMMMM. Suman will be at the Boston Public Market on December 18th if you'd like to shop in person. 
For the quilter in your life, Sheri at Whole Circle Studio has ALL SORTS of fun, downloadable patterns. You could pair them with her curated thread collection (it's called Radiant Rainbow, you know I'm all about that!), and both your gift and cozy winter plans are SET. She's also got a fab Block of the Month pattern out just in time for holiday gifting, it's a fun floral theme you can peek at here.
Rachel has been making her jewelry for years, and selling it on Block Island (my favorite island!) at the local farmers market, and has only this year launched an online shop.
I love these bracelets, for myself (but of course!), and also for gifting - my nieces haven't seen their last Rachel Lemoine bracelet yet, you can be sure of that!