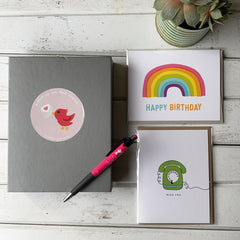 (My Love 365 Cards card box and a couple of adorable cards above)
I first shared this Friend of the Farm info in my newsletter, but I love sharing the love, so figured, hey! Why not do it here, too!?
There will be more of these, but for now, here are three Friends of the Farm who design fun, unique greeting cards, who I think you should know about if you don't already. 
More than one friend (of the farm!) has mentioned that they'd really like to have a stash of cards at home ready for when they need them, and I always tell them that Love 365 Cards can hook them up. 

Founded by my friend Allyn and her sister Amanda after they had that exact "why don't I have a stash of cards handy for when I need them?" thought, they got to work, and made it easy for the rest of us to do just that. 

Select 6 or more cards, they package them up in an adorable box, and ship them off to you for exactly that moment when you need a card. I'm partial to this Friendsies til the Endsies card, and this Everything is Fine, But Nothing is Okay card, which is uber-appropriate for 2020's Thinking of You Week. They have tons of lovely cards for every occasion (see two of them below!). Literally, your wish has been granted. 

Also, once you've ordered from them once, ALL OF YOUR FUTURE SHIPPING IS FREE. Hello? Get on that!

If it's adorable pet-themed birthday cards you need, one of my childhood (and current) faves, tatutina, which was founded in the 1970s by mom Barbara - who designed adorable t-shirts with rows of hearts that everyone in town (and beyond!) owned - is now run by her lovely daughter Georgia. 

Tatutina products have been in my life since that heart t-shirt I wore proudly when I was 8 (wish I had one today, tbh), and I've gotten fab gifts for my nieces and nephew from them in recent years. Georgia has been making truly adorable mask-wearing dog and cat birthday cards for covid-times in addition to her regular truly adorable line. She also just added cute downloadable "virtual class in-session" signs to her shop, which bring the cheer to what can be a challenging (ahem!) experience for all. 


NANU Studio is the design studio of a former colleague of one of my friends (of the farm! :) And former colleague! Are you still following along? Excellent! Thank you!). Krishna and I met at the National Stationery Show in 2019, and her puns and distinctive illustrations make each card memorable. Her Pick Your Poison birthday card got two thumbs up from my sister - a Poison (the band) fan. Apparently, Poison (the band) are also fans of this card (evidence here!).  

Hopefully these are new-to-you sources for cards that can help you also share the love with your friends and fam. I bet there's someone you know who could use a snail mail surprise right about now. I mean, it IS 2020, ffs.