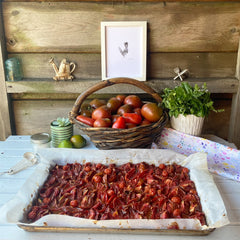 Makes approximately 4 cups (roughly equivalent to one 28-ounce can of tomatoes - perfect for soup or sauce!)
Active time: 1 hour (½ hour for slicing and de-seeding, another half hour max after roasting to remove skins once the tomatoes have cooled)
Cook time: 3 - 3.5 hours
In March this year, I started as many tomato seeds as in normal years, five seeds to a seed starting cell, four cells to a row, four rows, one of each variety (math!), and gleefully watched all of them sprout. 
Roughly 6 weeks later, like a person who had seen food (and toilet paper) shortages (!) would, I proceeded to transplant entirely too many seedlings, some doubled up as our transplanting pots dwindled, and then, about four weeks later, proceeded to plant every last transplant into the earth here, knowing that at the very least, we'd be able to eat pasta and sauce come August and September.
In total, we planted 27 plants. There are 19 in the vegetable garden, and 8 in the corral where the pigs used to live, but where we now have a fledgling cut flower garden.
In normal years, we plant 14 tomato plants, which is always more than enough for two people. Always. But back at the end of May, we didn't think we should chance not having extra food, so 27 plants it was. And then a cherry tomato plant volunteered itself in the veggie garden, so we're at 28 plants.
Even in those normal years (there's that phrase again, damn it), I always roast and freeze our surplus tomatoes so that once winter settles in, the garden is fallow, the leaves are gone from the trees - before we're even thinking about seed starting, and the joy of tiny green sprouts - we can enjoy homegrown tomato sauce or a comforting tomato soup and grilled cheese.
I have a feeling there'll be plenty of those types of meals this winter, needing comfort as we do in this not normal year.
After years of roasting a lot of batches of tomatoes, I've decided that not only is blanching and peeling the tomato skins before roasting a pain in the arse, it's also not necessary.
Instead, quarter the tomatoes, cut out the stem end, remove as many seeds as possible - though it's not necessary to be fussy about that either, after all, these are for us to eat in our homes as comfort food, we aren't running restaurants here - then, once the tomatoes are roasted, slip the pulp out from the skins, transfer the pulp to a freezer bag (or resealable container), squeeze the tomato skins to be sure you've gotten all of the pulp out, discard the skins, and transfer the remaining cooking oil and juice from the tomato skins to the bag. Mark the date on that bad boy with a Sharpie, lie the bag flat in the freezer, and look forward to rich pasta sauces and grilled cheese and tomato soup all winter long.
A few notes:
You'll need parchment paper and a rimmed baking sheet (I use a half-sheet, which is roughly 18 x 13-inches).

Use tomatoes that are approximately 5 to 6 ounces each. 

We use an assortment of tomatoes, so no need to worry if you're mixing varieties, just try to have the quarters be around the same size so that they cook evenly. If you have larger tomatoes, you may need to slice them into eighths rather than quarters.  
Ingredients:
4 to 5 pounds tomatoes, quartered, cored, seeds removed as best as you're able

3 tablespoons olive oil 

Scant ¼ teaspoon kosher salt
Method:
Preheat the oven to 275°F. 

Line a large, rimmed baking sheet with parchment paper.

Place the tomato quarters skin side down in a single layer on the parchment. 

Drizzle with the olive oil and sprinkle salt over top.

Roast on the middle rack for 3 - 3.5 hours, until the tomatoes are deeper in color and the edges are just starting to brown. 

Allow the tomatoes to cool, then use tongs or your fingers to slip the skins off of the pulp. Transfer the pulp to a bowl or directly into your freezer bag, placing the skins back on the parchment.

Once all of the skins have been removed, squeeze them to remove any remaining tomato pulp / juice. 

Discard the skins.

Pour the oil and tomato juice from the pan into your bowl / bag and seal. Keep refrigerated in an airtight container for up to 3 days, or freeze for use this winter. 
When it's time to make sauce, sauté onion or shallots and garlic in just enough olive oil to coat the bottom of the pan, add the roasted tomatoes, and cook until they've reduced to your desired consistency - if you like a thinner sauce, cook them for a shorter time, if you like a thicker sauce, cook them longer. 
Use roasted tomatoes in traditional red sauces, of course, and also in jambalaya, soups, and stews. We sometimes make a faux / lazy person's jambalaya with andouille, shrimp, and roasted tomatoes, which we serve over rice. Always better with roasted tomatoes. 
oh, hey! that chicken print IS available in the shop! and so is that tea towel! thanks for asking! :)
Here's a little before shot of the tomatoes: